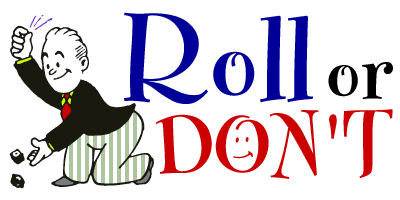 Based on the game "Can't Stop" by Sid Sackson
---
Celebrating 17 Years of Ever-More-Rare Updates
New Version -- Number 9
(Released August 27, 2009)
---
"Roll Or Don't" is a free computer game, which you can play forever with no strings attached.
In "Roll Or Don't", you roll dice and choose your numbers, then keep rolling as long as you feel lucky! When you think your luck is running out, end your turn to save your progress -- because if you roll and none of your numbers shows up, you bust, and lose all your progress for this turn. If you get to the top of three columns and capture them, you win!

To download "Roll Or Don't", click on the image below for your operating system:
| | | |
| --- | --- | --- |
| Windows Installer | Mac OS X Installer | Linux Installer |
| | | |
* Please note that this Windows version does not contain a Java Runtime Environment. The odds are you already have one on your computer, but if the installer or the game complains that it can't find a JRE, you can download one from here.
This Windows installer should work on every version through Windows 7 at least.
---
What's new in Version Number 9
* New Rule Variant! Leapfrog lets each player start one space above wherever the last player stopped on a column. It's makes for a very fun and a very fast game!
* The stats for your current game can be displayed on the menu bar. It's fun to see the stats change as each game ends. There's always time for one more -- especially with the Leapfrog variant!
---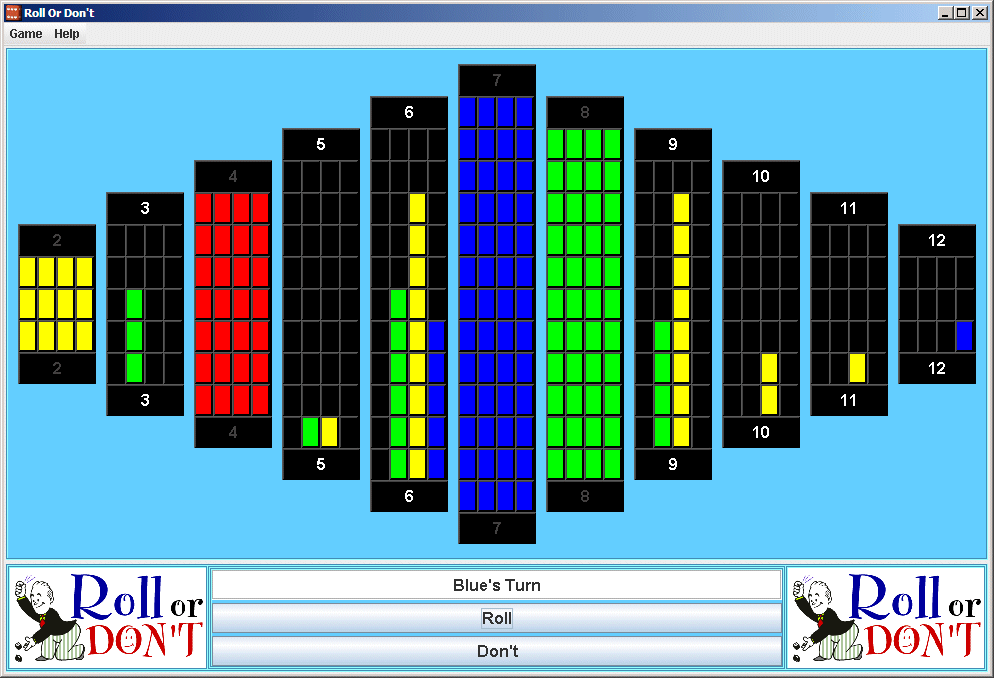 Here are some screenshots of a game being played.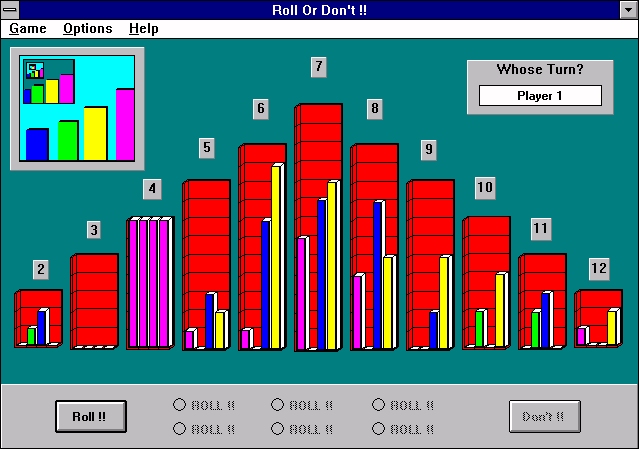 Here's a picture I found of Version 1.0 of Roll Or Don't!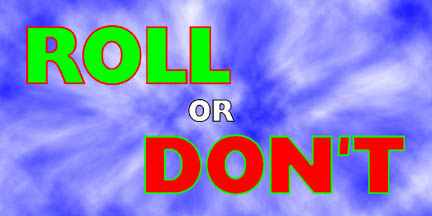 Here are the various logos generously donated by Ward Batty over the years...
Special Thanks to Larry Levy for playtesting and great suggestions!
---
All rights reserved by James Cobb.
"Roll Or Don't" is trademark (tm) by James Cobb.
(Last Update: 08/27/2009)